Goat 1000 home
Welcome to Goat 1000 - this is where you'll find some of the bits and pieces of software that I cobble together for fun. Please feel free to download them and try them out. All this stuff is freeware, no guarantee that it will do anything, etc. (though if it does fail to do anything, please let me know!)

News
26/05/2017
Version 1.8 of TrayBlank fixes a few things that have been bugging me about version 1.7, including a bug that is still bugging me now that it is fixed. It really is fixed though.
The changes all affect the way TrayBlank behaves when the screensaver is not set - in other words, when the "Screen saver" drop-down in the Control Panel's "Screen saver Settings" dialog is set to "(None)". Now when TrayBlank finds that the screensaver is not set its "Start screensaver" and "Configure screensaver" menu options are greyed out, and the progress bar showing the time until the screensaver starts is not shown.
The text in the tooltip is clearer now too - it was a bit muddled before, but now the name of the screensaver and the timeout are displayed on separate lines, or there will be a message telling you the screensaver is not set.
17/05/2017
So here is JPEG Saver 4.19, looking very much like the last version. But go to the "About" tab in the config dialog and you will find a button marked "Debug…" (because I couldn't think of anything better to call it). Clicking the button will open this new dialog: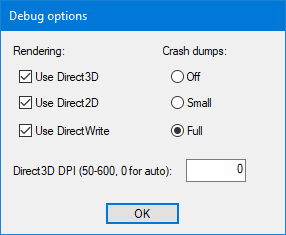 The "Use Direct3D" and "Crash dumps" options have been in JPEG Saver for a while now, but were only accessible by editing the config file by hand. The other options are new in version 4.19. I will now attempt to explain what they do:
15/04/2017
Yes, this is another bugfix version of JPEG Saver. There is one bug fixed in this release: using random positions for items was making JPEG Saver crash when it started up. There are no other changes in this version.
I am working on JPEG Saver 4.19 at the moment, which is progressing slowly. As I said last time, I want to get some decent support for DPI awareness, and so version 4.19 will be using DirectWrite for its text output, falling back to the old GDI text output if DirectWrite is not available (or if you turn it off from the config dialog). It will also be using Direct2D in places where it previously used GDI or GDI+, so there is quite a lot that needs changing.
Version 4.18.2 is available from the downloads page.
Sections
JPEG Saver - A screen saver for Windows that displays JPEG, PNG and BMP images.
SVGGraph - A PHP library for generating SVG graphs.
TagCanvas - An HTML5 canvas-based javascript tag cloud.
CRCDropper - A drag and drop CRC32 calculator.
CRCDropper2 - Another drag and drop CRC32 calculator.
CRCDropper3 - « see if you can guess what this does ».
TrayBlank - a small utility for starting the screen saver from the system tray.
Shuffler - a small utility for managing windows.
Snow - a web page background snowfall, using the HTML5 canvas element.
Glowspot - an attempt at replicating Chrome's glowing tabs in HTML and Javascript.
March - a configurable Javascript clock using an HTML5 canvas.
Contact me
If you want to contact me, my email address is at the bottom of the Readme.txt file or PDF in any of the zip files, or in the source of Javascript files, or you could try to figure it out from a combination of my name, (graham) this domain name (goat1000.com) and the @ sign.
About this site
All pages on this site are written in PHP. Syntax highlighting is performed using GeSHi. Titles and sub-titles use the Franchise font, with CSS @font-face files generated by the Font Squirrel @font-face generator.
The site uses cookies, find out more
Site search
The search box on this web site ("Search Box") is powered by Google Inc ("Google"). You acknowledge and agree that Google's privacy policy (located at http://www.google.co.uk/privacy.html) shall apply to your use of the Search Box and by using the Search Box you consent to Google using your personal data in accordance with its privacy policy.
Updated 26/05/2017.