Goat 1000 home
Welcome to Goat 1000 - this is where you'll find some of the bits and pieces of software that I cobble together for fun. Please feel free to download them and try them out. All this stuff is freeware, no guarantee that it will do anything, etc. (though if it does fail to do anything, please let me know!)

News
05/11/2019
JPEG Saver 5.4 was a big, complicated update that didn't appear to change very much at all, so I've tried to get some more interesting things into version 5.5. I haven't done much with the multi-monitor support recently, so that was where I started:
New multi-monitor options
I had to update the multi-monitor options dialog to add in some new settings, so now it looks like this: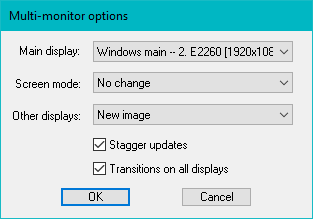 The first change is in the "Main display" option. Previously you could choose which of your displays JPEG Saver should use as its main display, but now you also have the option of using whichever display is set as the Windows primary display as your main display. If you change your primary display in the Control Panel settings, JPEG Saver will automatically use the new primary screen.
26/09/2019
SVGGraph 3.2 is a fairly minor update, adding a few new options but mostly fixing things. The first thing on the list uses a new option to fix a problem that has been around for a long time.
Zero length axis
The most important new option is axis_fallback_max, which defaults to 1 and sets the value for the end of the axis when SVGGraph can't figure it out from the data. Up until now passing in data with all the values being 0 resulted in an unhelpful "Zero length axis" error message, since I didn't want to choose an arbitrary value to put at the end of the axis in case it didn't make sense for the intended use of the graph.
Now the Y-axis will end at the value of the axis_fallback_max option if there are no non-zero values and the axis_max_v option (or axis_max_h option for horizontal graphs) is not set. So this means I have finally chosen an arbitrary value, and it is 1*.
09/09/2019
JPEG Saver 5.4 is one of those versions where I've changed a lot, but it doesn't look like I've done much at all. Apart from the updated version number, there is one place where the changes should be visible to everyone: the transition preview window.
In earlier versions the transition preview was a 160×120 window that demonstrated the selected transition in the main tab of the config dialog. The major changes in this version made it difficult to keep it there, so I've doubled the size of the preview and moved it out into a popup window.
Those "major changes" I mentioned are actually only updates to make the configuration dialog support scaling - the type of scaling you get from the scaling display settings in the Control Panel. If you have a high-DPI screen your scaling might be set to 125%, 150% or 175% (or you can set it to your own value, just to make things even more tricky). Windows has supported these high-DPI options for quite a while now, but it is only recently that Windows 10 added some handy support functions that made it a bit easier for me to get things working without completely redoing the dialogs.
Sections
JPEG Saver - A screen saver for Windows that displays JPEG, PNG and BMP images.
SVGGraph - A PHP library for generating SVG graphs.
TagCanvas - An HTML5 canvas-based javascript tag cloud.
CRCDropper - A drag and drop CRC32 calculator.
CRCDropper2 - Another drag and drop CRC32 calculator.
CRCDropper3 - « see if you can guess what this does ».
TrayBlank - a small utility for starting the screen saver from the system tray.
Shuffler - a small utility for managing windows.
Snow - a web page background snowfall, using the HTML5 canvas element.
Glowspot - an attempt at replicating Chrome's glowing tabs in HTML and Javascript.
March - a configurable Javascript clock using an HTML5 canvas.
Contact me
If you want to contact me, my email address is at the bottom of the Readme.txt file or PDF in any of the zip files, or in the source of Javascript files, or you could try to figure it out from a combination of my name, (graham) this domain name (goat1000.com) and the @ sign.
About this site
All pages on this site are written in PHP. Syntax highlighting is performed using GeSHi. Titles and sub-titles use the Diavlo font by Jos Buivenga (exljbris), with CSS @font-face files generated by the Font Squirrel @font-face generator.
The site uses cookies, find out more
Site search
The search box on this web site ("Search Box") is powered by Google Inc ("Google"). You acknowledge and agree that Google's privacy policy (located at http://www.google.co.uk/privacy.html) shall apply to your use of the Search Box and by using the Search Box you consent to Google using your personal data in accordance with its privacy policy.
Updated 05/11/2019.